Sleepy Valley Quilt Company now has a beach retreat house!
Looking for a place to get away and quilt to your hearts content? You and your friends can head out to Clallam Bay where a peaceful beach house and separate quilt studio await you.
Situated a few steps away from the beach, this three bedroom, two bath house offers a full kitchen and dining/living room with gas fireplace. The main floor has a full bath, a bedroom with a queen and twin bed and another bedroom with a twin. The upstairs has a full bath, a queen bed and a twin bed. The sixth bed is a sofa bed in the common area. The detached quilt studio has plenty of room for all of your quilting needs.
You can take a break from quilting to beach comb, explore tide pools or simply sit and watch the waves. After the perfect sunset, the sound of the surf will lull you to sleep.

The fee for use of the house and quilting studio is $350 per night plus a one time cleaning fee of $150. The house can accommodate up to six people for sleeping. So gather up six of your friends and begin your quilting journey right at the beach. If additional friends want to join you for just a sew day in the classroom it is an additional $25 for each person sewing for the day.

There is no smoking allowed in the house or classroom. No pets allowed.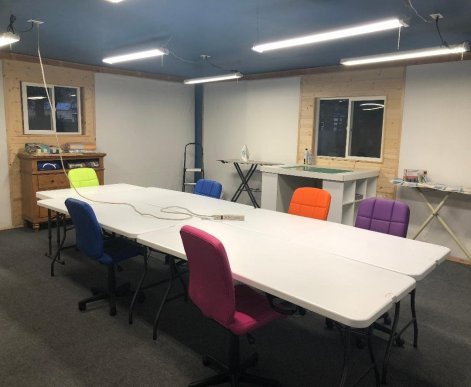 If you are interested in a Clallam Bay retreat, please contact us, and we will be happy to help you plan your sta